SERVICE
At Uism, we take our clients' challenges as our own. Our experienced team leverages a wealth of academic insights and specialized expertise to support the creation of the ideal user experience with a deep emphasis on user-centricity.
UX research aims to uncover the needs, behaviors, reactions, and challenges of users in response to a product or service and foster the best user-centered experience based on said insights.
3 Phases of UX
01

Explore

We analyze user latent values and desires, as well as use cases and requirements, to find the new value they're looking for.

02

Design&Refine

We support iterative agility through rapid design testing and insight collection.

03

Measure

We ascertain whether designed experience meets intended user requirements and verify predicted demand through quantifying the expected market.

TOOL BOX
We will propose the best solution to the problem you face.
We provide high-quality research in multiple countries as a one-stop service in collaboration with our global team and affiliated companies.
Uism is part of ReSight Global, a global UX research firm headquartered in Germany with offices around the world. Through our diverse and multicultural team, both within Uism through ReSight, our reach goes far beyond our Japanese office. With our strong international network and multilingual capabilities, we provide in-depth insights in a variety of geographies and are committed to supporting our clients' international expansion.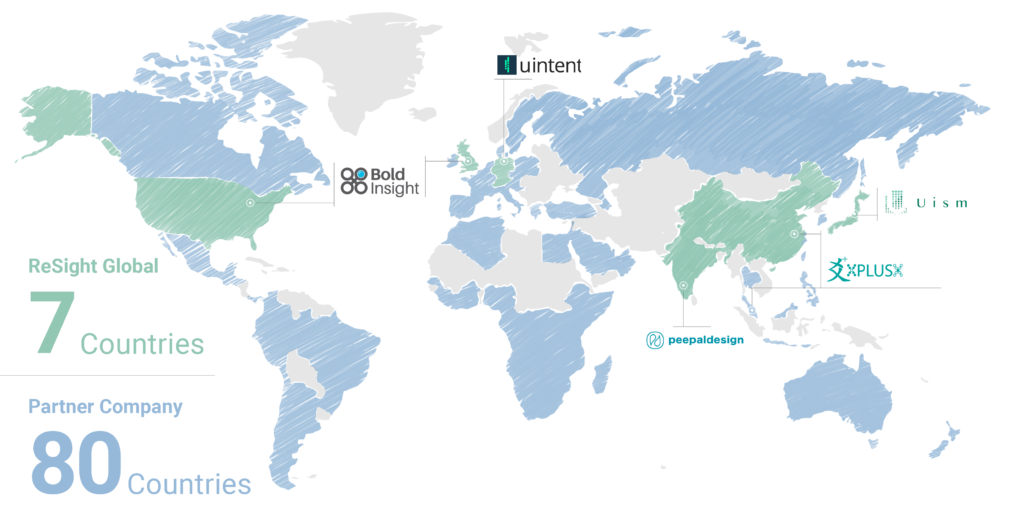 List of Partner Countries
Antigua & Barbuda
Argentina
Barbados
Brazil
British VirginIslands
Canada
Chile
Colombia
Costa Rica
Dominica
Ecuador
El Salvador
Grenada
Guatemala
Honduras
México
Montserrat
Panamá
Peru
St. Kitts and Nevis
St. Lucia
St. Vincent and the Grenadines
Turks and Caicos Islands
Austria
Belgium
Croatia
Czech Republic
Denmark
Finland
France
Greece
Ireland
Italy
Poland
Portugal
Slovenia
Spain
Sweden
Switzerland
The Netherlands
Angola
Botswana
Burkina Faso
Burundi
Cameroon
Congo
Cote D'Ivoire
DRC
Equatorial Guinea
Ethiopia
Gabon
Gambia
Ghana
Guinea
Kenya
Lesotho
Liberia
Madagascar
Malawi
Mauritius
Mozambique
Namibia
Nigeria
Rwanda
Senegal
Sierra Leone
Somalia
South Africa
Swaziland
Tanzania
Togo
Uganda
Zambia
Zimbabwe
Algeria
Egypt
Israel
Jordan
KSA
Lebanon
Morocco
Oman
Tunisia
Turkey
UAE
Why choose Uism
01
Your research requests are in good hands with our dedicated and experienced team of researchers.
02
We always strive to put the client first and provide the best quality in every service.
03
Deep local insights uncovered by our diverse team will help bridge your product to an awaiting Japan.
Scoping | Proposal

We clarify the scope and goals of the research and identify the issues. We propose a specific research plan, methodology, and budget, and determine the effectiveness of the research and the specified process. Even if you already have a research approach in mind, we can execute it according to your plan.

Preparation

We prepare the necessary tools, such as the screeners, interview guides, and presentation materials. We work closely with your team to coordinate all of these materials to best support the goals of the study and share a clear understanding of how each tool will specifically contribute to its success.

Recruitment

We select and schedule users who best fit the research objectives. To meet targets, Uism utilizes its own network of affiliated professional recruiters to handle even the most challenging recruiting assignments.

Fieldwork

Conducted in online and offline environments, we gather real data through a wide variety of methods including observation, interviews, user testing, surveys, and on-site testing.

Deliverables

We provide results-based reports that include data and insights gained through our research. Our focus is not just to summarize the results, but to provide actionable insights. In addition to the report, we can also provide many other options to meet your objectives and needs.

Enough talk about us. let's talk about you!
Whether you are curious about our service, looking for a new job or simply want to have someone to chat, we're ready to answer any and all your questions.